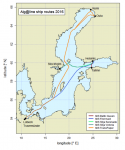 SYKE Alg@line network in the Baltic Sea monitors the state of the sea and detects algal blooms. Several millions of data points are collected annually from the Baltic Sea, using a fleet of ferries operated by shipping companies. Ferries are equipped with flow-through systems (usually called 'Ferryboxes') with spatial measurement resolution of about 200 m. The data recording has the geo-reference logging from GPS. Ferryboxes incorporate a thermosalinograph, chlorohyll, phycocyanin and CDOM fluorometers, turbidity meter and refrigerated sampling unit providing discrete water samples for laboratory analyses (e.g. microscopy, FlowCAM, nutrients, optical analysis, and experimental work). Additional flow-through sensors e.g. for primary production (FRRF) and light reflectance are used periodically,
Data is visualized in SYKE webpage and in Järviwiki (alias Lakewiki)which is a web service built and maintained in cooperation by authorities and common people. Data may be downloaded through Emodnet and CMEMS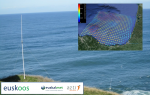 This HF radar system is composed by two CODAR Seasonde antennas (transmit frecuency 4.525 MHz) and offers many benefits for the Basque Operational Oceanography Network such as: the improvement of the knowledge about surface currents and their forcing physical processes, marine safety, search and rescue, pollution response, validation and calibration of both hydrodynamic and pollutant drift forecasting models, data assimilation on progress, etc. The access from raw radial data to processes 2D surface current is provided for scientific and applied purposes (Coastal processes, marine safety, search and rescue, pollution response, etc).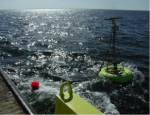 The Cefas Data Hub holds a wide variety of both marine and freshwater data.  Data themes include biological (fisheries, benthic invertebrates, plankton etc.), physical (water temperature, wave direction, water depth etc.), chemical (nutrients, toxins, radiochemistry etc) and socio-economic (dredge disposal sites, economic models, recreational angling surveys etc).  Data formats are varied and include CSV's, Shapefiles, Sound recordings, PDFs, JPEG images, model outputs and gene sequences.  Timescales of the data range from historic (1880) to the present (with semi-live feeds to remote sensing platforms).  The geographic extents of data mainly concentrate on UK waters but also include global areas such as the Southern Indian Ocean, Caribbean and the Arctic.
The openscience website is a R shiny web applications for data visualisation and data sharing linked to the Cefas Data Hub database. During the programme JERICO-NEXT, 2 R Shiny application have been created: 1. the Benthic Non Native Species Tool(NON-NATIVE) showing occurrence records for non-native species sampled in benthic grabs between 1969 and 2016. 2. PHYTO-OPS showing physical and biogeochemical data from the FerryBox coupled with phytoplankton functional types from flow cytometry analysis and taxonomic   groups from pigment analysis (HPLC) during surveys on the RV Cefas Endeavour.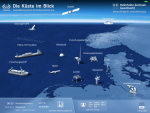 COSYNA provides near real-time data from integrated observations and model results. The observations comprise a variety of in situ techniques (e.g. FerryBox, Gliders, Cabled Underwater Observatories) as well as remote sensing from shore by radar and from space by satellite. Key physical, sedimentary, geochemical and biological parameters are observed at high temporal resolution in the water column and the upper and lower boundary layers.
COSYNA's modelling part consists of nested models with different grid sizes for hydrography (salinity, waves, currents), for suspended matter and for biogeochemical and ecosystem processes. Sophisticated data assimilation procedures, i.e. continuous corrections of the models by observations, improve the reliability of now-casts and short-term forecasts. All data and plots are generally available for download through the data portal (http://codm.hzg.de/codm/).
FerryBox data can be directly accessed via the data portal ferrydata.hzg.de where different vizualizaton tools are available (e.g. single transect, pool data along a certain transect for a longer time period or time-series at certain locations). Furthermore, all datasets can be exported in ASCII (tab separated tables) or NetCDF format and downloaded.
COSYNA's motivation is  bridging the gap between operational oceanography and the various users of forecasts of the marine state. For further outreach to stakeholders and the wider community an app has been developed for the most common platforms.
The infrastructure relies on the CORIOLIS data management system which gathers expertise on IT technologies, marine data management and quality control for both open ocean (e.g. ARGO, MYOCEAN) and shallow water (JERICO1, RECOPESCA, PREVIMER) observations. The observatories currently managed by the data service infrastructure sea level, river flows and ocean physics (temperature, salinity).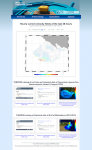 Surface current data measured by the CNR-ISMAR HF radar network are made available in graphical format for the last 48 hours and in real time and delayed mode via a THREDDS catalog which provides metadata and data access. The web site gives information on HF radar technology, sites position and operational parameters, and links to the THREDDS catalog. The catalog offers different remote-data-access protocols such as Open-source Project for a Network Data Access Protocol (OpenDaP), Web Coverage Service (WCS), Web Map Service (WMS) (OGS standards), as well as pure HTTP or NetCDF-Subsetter. They allow for metadata interrogation and data download (even sub-setting the dataset in terms of time and space) while embedded clients, such as GODIVA2, NetCDF-JavaToolsUI and Integrated Data Viewer, grant real-time data visualization directly via browser and allow for navigating within the plotted maps, saving images, exporting-importing on Google Earth, generating animations in selected time intervals. The data on the THREDDS catalog are organized in two folders, collecting the hourly current files of the last five days and grouping all the historical data. The two folders are accessible both in aggregated and in non-aggregated configuration.
The data set consists of maps of radial and total velocity of the sea water surface current collected by the HF radars within the Italian Coastal Radar Network established in the framework of the Italian flagship project RITMARE. Surface ocean velocities estimated by HF Radar are representative of the upper 0.3-2.5 meters of the ocean. The radar sites are operated according to Quality Assessment procedures and data are processed for Quality Control. Data access tools are compliant to Open Geospatial Consortium (OGC), Climate and Forecast (CF) convention and INSPIRE directive. The use of netCDF format allows an easy implementation of all the open source services developed by UNIDATA.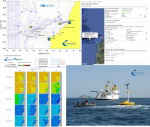 The MONICAN web page provides access to real-time or archived measurements and operational forecasts of the oceanographic conditions prevailing in the Nazare Canyon area of influence. Near real-time measurements in the Nazare Canyon area are collected hourly by the MONICAN network. This network includes two multi-parametric platforms measuring waves, meteorogical parameters (wind, atmospheric pressure, air temperature and relative humidity), sea surface temperature and (for one of the platforms) water temperature in the upper 200m and currents in the upper 100m. The MONICAN network also integrates two coastal tidal stations providing sea surface level measurements  in the ports of Nazare and Peniche , and one coastal meteorological station providing meteorological measurements in the area of Ferrel. The near real-time data is presented in graphical form (namely by combining observations and forecasts) and can be accessed in table form. Forecasts of the wave conditions affecting the coast of Nazare are also included.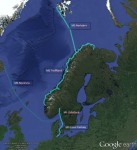 The Ferrybox installation provide the core sensor data from about 4 meters depth of temperature, salinity, Chl-a fluorescence, oxygen and turbidity. Some ships will also provide data on parameters, ocean colour and true wind. Special sampling can be ordered.
Researchers are invited to conduct research from NorFerry data on eutrophication, biodiversity, chemistry, biogeochemistry and remote sensing. The users will be given access to sensor data measured on-board and that are on-line after the QC has been performed on the core sensor and biogeochemical data when available. Data will be uploaded daily (near real-time) to weekly/biweekly. The user can access support from NIVA researchers/technical staff.

JERICO-Next KOM WP6 Observatory Template NIVA Norferry Final (956.5 KiB)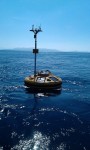 The data recorded by the oceanographic platforms operate in the Aegean and the Ionian Seas (fixed stations, ferry box system, gliders) are released through the POSEIDON portal. Physical and biochemical parameters of the marine environment as well as atmospheric parameters in the fixed station locations are available both in real time and delayed mode.  The forecasting module of the POSEIDON system consists of four numerical models that provide in daily basis forecasts regarding the atmospheric, sea state, hydrodynamic and ecological conditions of the Eastern Mediterranean. The online POSEIDON database contains the data recorded by the insitu platforms offering also downloading functions for the whole data set, while a user-friendly tool is also available for accessing the results of all the forecasting models for the last five years.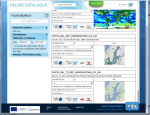 SHARK Marine environmental monitoring data is available in delayed mode.
The data can be accessed through SHARKweb via downloading or directly via the web service SHARKdata .
All data are available for download.
Öppna data (Open data) contains marine physical data from e.g. fixed platforms, tidal gauges, buoys, ferry box systems and meteorological stations. Near Real Time mode.
All data are available for download.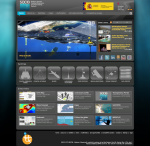 Oceanographic and model forecast data is available in real time and delayed mode from across the SOCIB facilities. Including physical and biogeochemical variables from platforms such as moorings, gliders and floats, surface HF Radar providing real time surface currents, monitoring of beach evolution through video cameras and forecasts for sea state and currents from the SOCIB operational regional ocean model (WMOP). The data can be accessed through the individual platform and modelling facilities or via the Data Centre Facility. In addition a variety of interactive tools to help visualise the data can be found under the SOCIB Apps section. The current platform deployments and realtime data can be followed through the DAPP web Application, also through the SOCIB App for Smartphones (Android and IPhone), through the Fixed Station Facility and through the Beach Monitoring Facility for coastal applications. All data are available for download.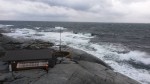 The Utö Atmospheric and Marine Research Station of Finnish Meteorological Institute is located on Utö Island (59º 46'50N, 21º 22'23E) at the outer edge of the Archipelago Sea, Baltic Sea. Utö site specific open data is available at http://swell.fmi.fi/Uto/latest.html. Operational meteorological and marine observations, and model data produced at FMI is available through open data portal (https://en.ilmatieteenlaitos.fi/open-data).