Successful JERICO Summer School in Malta
35 participants attended the first JERICO Summer school organised by the Physical Oceanography Unit of the IOI-Malta Operational Centre at the University of Malta between the 8th and 13th July 2013. The young researchers came from all over Europe, including participants from the southern Mediterranean countries and the Black Sea, and hailed from a variety of disciplines.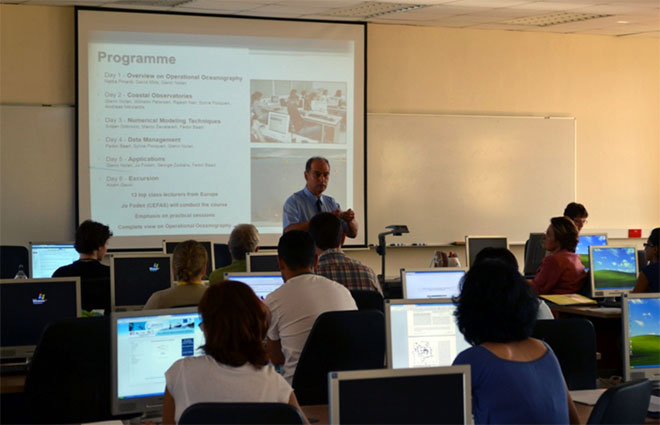 The intensive programme on operational oceanography in the 21st century with a focus on the coastal seas featured high level lectures and practical sessions on all aspects revolving around the real-time acquisition and the continuous and sustainable delivery of high quality environmental data and information products related to the marine environment of European coastal seas. Experts discussed data acquisition technology, coastal observatories, data management, numerical modelling techniques,  and the delivery of downstrean services. The participants were able to work hands on using software tools and applications; they also had a taste of putting things into practice with a visit to the CALYPSO HF radar installation in Malta. 
Prof Aldo Drago from the IOI-Malta Institute together with Dr Jo Foden of CEFAS UK spearheaded this effort, but they were aided by the excellent lecturing team that came from Italy, Ireland, Netherlands, UK, France, Cyprus and of course the great technical and logistics team in Malta headed by Mr. Adam Gauci. 
Feedback from all participants – lecturers and students alike – was excellent and this bodes well for the future capacity building endeavours, especially the Master Course in Applied Oceanography (http://www.capemalta.net/msc/applied_oceanography) to be offered by the University of Malta as from next October.
The school has nurtured the sharing of experiences and best practices between the school participants who have vouched to remain in contact after the course in favour of collaborative joint efforts and contributions to the future of operational oceanography. 
The school was funded by the FP7 JERICO project and sponsored by the International Ocean Institute and the MyOcean project

D6.3 Milestone20 JericoMaltaSummerSchool Final (3.1 MiB)