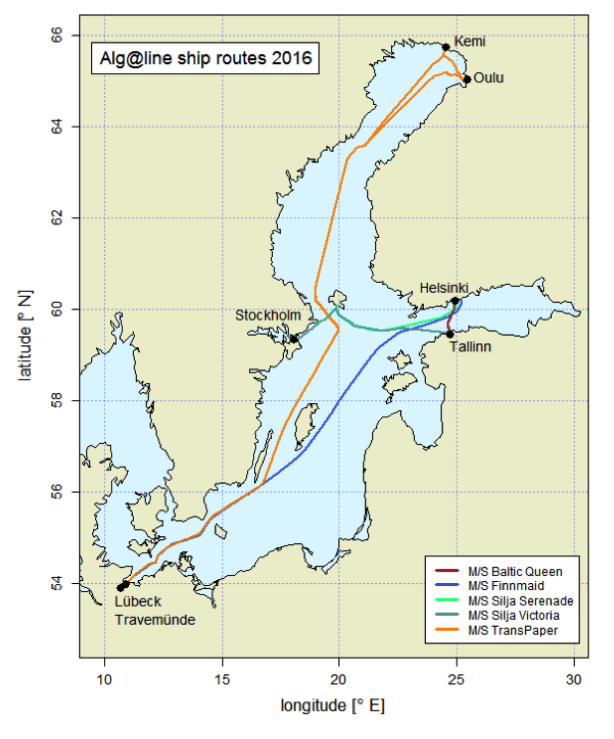 Short title:
Alg@line – Real time algal monitoring in the Baltic Sea
Short title2: SYKE Marine Research Centre
Link to website:
http://www.syke.fi/en-US/Research__Development/Research_and_development_projects/Projects/Real_time_algal_monitoring_in_the_Baltic_Sea_Algline
http://www.finmari-infrastructure.fi/ferrybox/
Description:
SYKE Alg@line network in the Baltic Sea monitors the state of the sea and detects algal blooms. Several millions of data points are collected annually from the Baltic Sea, using a fleet of ferries operated by shipping companies. Ferries are equipped with flow-through systems (usually called 'Ferryboxes') with spatial measurement resolution of about 200 m. The data recording has the geo-reference logging from GPS. Ferryboxes incorporate a thermosalinograph, chlorohyll, phycocyanin and CDOM fluorometers, turbidity meter and refrigerated sampling unit providing discrete water samples for laboratory analyses (e.g. microscopy, FlowCAM, nutrients, optical analysis, and experimental work). Additional flow-through sensors e.g. for primary production (FRRF) and light reflectance are used periodically,
Data is visualized in SYKE webpage and in Järviwiki (alias Lakewiki)which is a web service built and maintained in cooperation by authorities and common people. Data may be downloaded through Emodnet and CMEMS
Institute:
Finnish Environment Institute
Contact name: Jukka Seppala
Contact email: Please login or register to view contact information.
Location: BOOS. Baltic Sea – Helsinki, Finland -> Travemünde, Germany; Helsinki, Finland -> Stockholm, Sweden
Tags:
Baltic Sea, ferrybox, algae, phytoplankton, nutrients,cyanobacteria