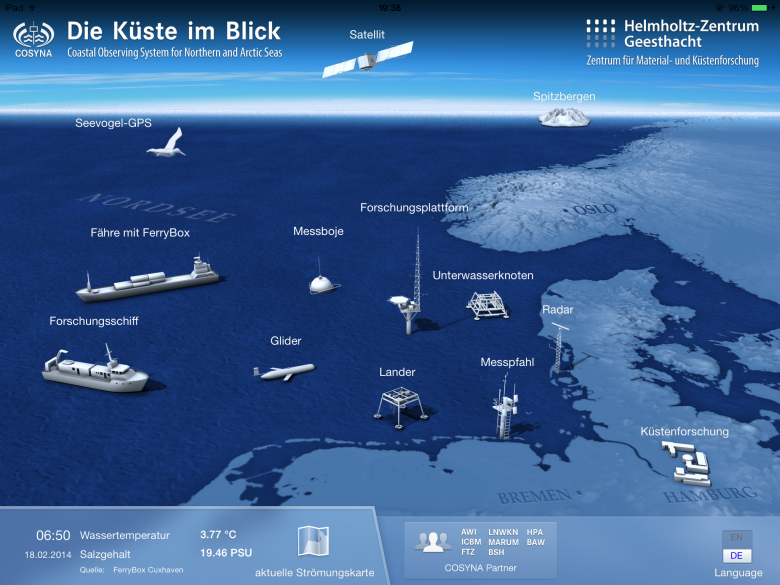 Short title:
COSYNA – Coastal Observing System for Northern and Arctic Seas – provides quality-controlled, science-based, near real-time environmental information derived from integrated observations and model results.
Short title2: COSYNA
Link to website: http://www.cosyna.de
Description:
COSYNA provides near real-time data from integrated observations and model results. The observations comprise a variety of in situ techniques (e.g. FerryBox, Cabled Underwater Observatories) as well as remote sensing from shore by radar and from space by satellite. Key physical, sedimentary, geochemical and biological parameters are observed at high temporal resolution in the water column and the upper and lower boundary layers.
COSYNA's modelling part consists of nested models with different grid sizes for hydrography (salinity, waves, currents), for suspended matter and for biogeochemical and ecosystem processes. Sophisticated data assimilation procedures, i.e. continuous corrections of the models by observations, improve the reliability of now-casts and short-term forecasts. All data and plots are generally available for download and visualization (FAIR) through the data portal.
In addition FerryBox ship of opportunity data can be accessed via the data portal where different visualizaton tools are available (e.g. single transect, pool data along a certain transect for a longer time period or time-series at certain locations). Furthermore, all datasets can be exported in ASCII (tab separated tables) or NetCDF format and downloaded.
COSYNA's motivation is bridging the gap between operational oceanography and the various users of forecasts of the marine state. For further outreach to stakeholders and the wider community a web app has been developed. This data are also available as an app for the most common platforms.
Institute:
COSYNA is financed and coordinated by the Helmholtz-Zentrum Hereon. The scientific work is carried out jointly with partners of the Helmholtz Association, and monitoring authorities.
Contact name: Technical contact: Gisbert Breitbach, COSYNA project leader: Holger Brix, FerryBoxes: Yoana Voynova, In-situ Plankton Imaging: Klas Ove Möller
Contact email: Please login or register to view contact information.
Location: North Sea, Svalbard
Tags:
Cabled Observatories, In-situ Plankton and Particle imaging, FerryBox, physical and biogeochemical parameters, modelling, remote sensing