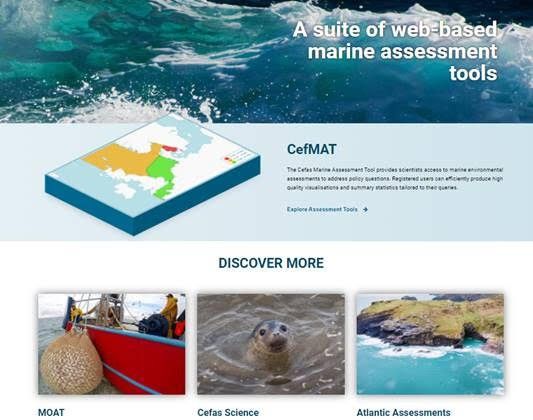 Short title:
Cefas Data Hub
Short title2:
Link to website:
https://www.cefas.co.uk/cefas-data-hub/
https://openscience.cefas.co.uk/
https://openscience.cefas.co.uk/invasive_species/
https://openscience.cefas.co.uk/phytoops_tool/
Description:
CefMAT is a web-based marine assessment tool platform to address policy questions. Users can efficiently produce high quality visualisations and summary statistics tailored to their queries. It also gives access to specific products created under CMEMS and visualisation of aggregated DOI biological datasets from Cefas Data Hub. Services currently offered by the infrastructure include the following: the Marine Online Assessment Tool to find out the UK's progress towards Good Environmental Status; the Cefas science dashboard to find out the latest in Cefas' marine science and the development of innovative monitoring techniques and assessment methodologies, and the Atlantic Assessments to discover assessments of the Northeast Atlantic based on satellite and modelling outputs data from CMEMS.
Institute:
The Centre for Environment, Fisheries and Aquaculture Science (Cefas)
Contact name: Cefas Data Management Team
Contact email: Please login or register to view contact information.
Location: data mainly concentrate on UK waters but also include global areas such as the Southern Indian Ocean, Caribbean and the Arctic.
Tags:
Buoys, FerryBox, archives of physical, biogeochemical and biological data, Smart-Buoy and Wavenet real-time data