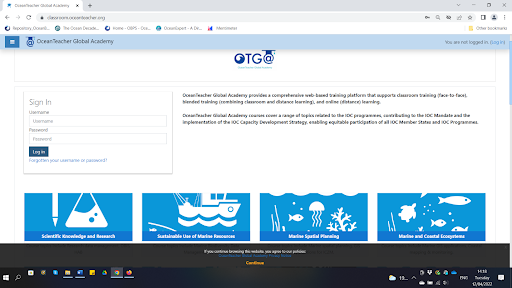 Short title:
Ocean Teacher Global Academy
Short title2: OTGA
Link to website: https://www.oceanteacher.org
Description:
OceanTeacher Global Academy provides a comprehensive web-based training platform that supports classroom training (face-to-face), blended training (combining classroom and distance learning), and online (distance) learning.
OceanTeacher Global Academy courses cover a range of topics related to the IOC programmes, contributing to the IOC Mandate and the implementation of the IOC Capacity Development Strategy, enabling equitable participation of all IOC Member States and IOC Programmes.
Institute:
UNESC/IOC International Oceanographic Data and Information Exchange (IODE)
Contact name: OTGA Project Team
Contact email: Please login or register to view contact information.
Location: Global
Tags:
Training courses; Learning platform; Moodle