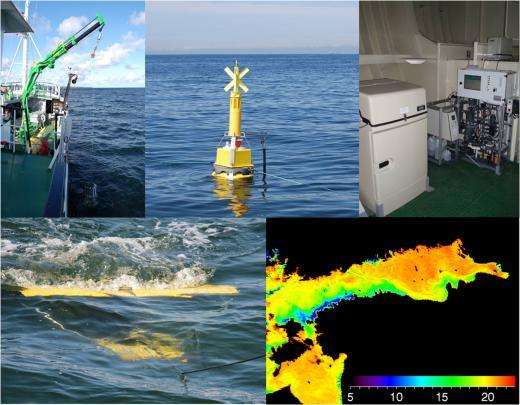 Short title:
Marine component of the Estonian Environmental Observatory (KKOBS)
Short title2: KKOBS
Link to website:
https://taltech.ee/meresusteemide-instituut/mereinfo
https://taltech.ee/en/department-marine-systems/marine-information
Description:
The marine component of the Estonian Environmental Observatory is part of the Gulf of Finland Pilot Supersite in JERICO. The observatory is composed of fixed coastal sensors (sea level), Tallinn-Helsinki ferrybox system, Keri cabled profiling system, portable profiling systems, wave buoy, research vessel surveys. The observatory addresses the main environmental challenges in the area, such as eutrophication and its consequences, climate change effects, microplastic pollution etc. Likewise, observations provide data to the physical oceanographers dealing with the water column dynamics, coastal-offshore exchange, etc. and marine ecologists studying water column and benthic habitats. Observatory collects long-term time-series for the climate and marine system change studies and high-resolution data for the process studies.
Institute:
TalTech
Contact name: Taavi Liblik
Contact email: Please login or register to view contact information.
Location: Baltic Sea, Estonia
Tags:
Ferrybox, profiler, physical oceanography, coastal sea, biogeochemistry, eutrophication