Empowering Coastal Observations: The EU HFR NODE / CNR
The EU HFR NODE / CNR – ID 7.2 initiative spearheads CNR's commitment to the European High-Frequency Radar (HFR) Node Competence Center, focusing on HF radar data management. This infrastructure not only offers a suite of services and tools but also adheres to the European Common QC, Data, and Metadata Model for Near Real-Time (NRT) and Delayed Mode (DM) HFR current data. The primary goal is to facilitate the seamless distribution of HFR data across prominent European marine data portals. In this article, we delve into the essential features of this initiative and its significant impact on coastal observation within the JERICO-RI framework.
CNR's contribution to the European High-Frequency Radar Node Competence Center is marked by a robust set of services and tools. These resources play a pivotal role in standardising, making interoperable, and ensuring the FAIR (Findable, Accessible, Interoperable, and Reusable) status of HFR data. Additionally, the infrastructure enables the smooth distribution of this data to vital platforms like CMEMS-INS TAC, EMODNet Physics, and SeaDataNet portals, thereby enhancing accessibility and usability.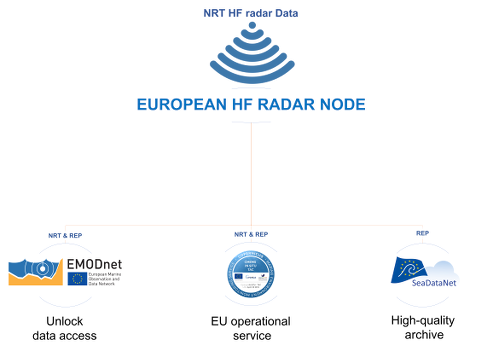 The EU HFR NODE / CNR – ID 7.2 initiative primarily caters to HFR system operators and managers. These services are instrumental in providing them with standardised, interoperable, and FAIR data, which are essential for efficient distribution across key European marine data portals. Furthermore, stakeholders including modellers, scientists, maritime space planners, and policy makers stand to benefit immensely from the high-quality data made available, enriching their operational applications.
This service embodies the essence of the JERICO-RI initiative by providing not just data, but knowledge, tools, and operational services. The emphasis on producing high-quality, standardised, interoperable, and FAIR data aligns seamlessly with the broader objectives of JERICO-RI and coastal observation, furthering scientific research and societal applications.
Over the course of the JERICO-RI programme, substantial advancements have been made in fortifying the EU HFR NODE / CNR – ID 7.2 initiative. New Application Programming Interfaces (APIs) have been developed, bolstering machine-to-machine access to HFR network metadata and enhancing the functionality of the HFR Online Outage Reporting Tool (HOORT) – an invaluable instrument that has significantly elevated the performance of the European HFR network. Furthermore, a complete overhaul of the hardware and software architectures for data collection, processing, and distribution has been executed, adopting hyperconvergent clusters and virtualisation of the services.
Looking ahead, the EU HFR NODE / CNR – ID 7.2 initiative is poised for even greater transformation. By the end of 2023, the implementation of new processing scripts is expected to be operational, ushering in a new era of enhanced processing chain performance. These developments promise to further solidify the initiative's role in providing top-tier HFR data for the betterment of coastal observations and research.