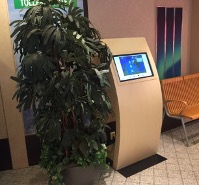 Niva offers passengers access to near real-time ocean data through user-friendly touchscreen consoles. The service is partly funded by the JERICO-S3 project and contributes to the JERICO-RI suite of Virtual Access (VA) Services.
The Norferry observing network comprises 5 Ferrybox installations on regular ferry passenger services, which operate in the Southern Baltic, North Atlantic, and Arctic waters, spanning from 54° to 78° North. These installations provide near real-time surface oceanographic data. The Norferry installations use advanced sensors that collect data from approximately four meters beneath the ocean's surface.
This data includes essential ocean parameters:
Temperature: Uncovering the ocean's temperature variations.
Salinity: Measuring the saltiness of the water.
Chl-a Fluorescence: Indicating the presence of chlorophyll and phytoplankton, key components of marine ecosystems.
Oxygen: Providing insights into the ocean's health and the availability of oxygen for marine life.
Turbidity: Measuring water clarity, a factor that influences various ecological processes.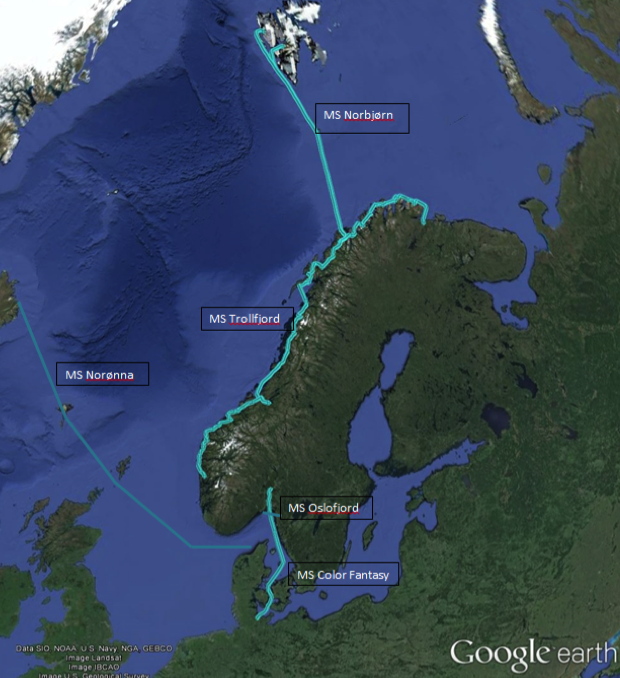 Some Norferry ships provide data on additional parameters like ocean colour and true wind. This wealth of information is a valuable resource for scientists and ocean enthusiasts alike.
Data Access for Passengers
User-friendly touchscreen consoles on the Norferry network provide passengers with access to near real-time ocean data as part of the JERICO-RI Virtual Access (VA) Services.
Passengers can access a range of services, including:
Variable vs. Time Plots: Passengers can explore graphical representations of ocean data over time, witnessing how ocean conditions change during their voyage.
Location on a Map: A real-time map feature displays the ship's current location, helping passengers connect their surroundings to the data they're viewing.
Ocean Literacy Modules: These modules offer passengers valuable insights into topics such as climate change and human impacts on the ocean. Some modules are tailored for school-aged children, making them an excellent educational resource.
Global Ocean Data Viewer: This feature enables passengers to explore ocean data on a global scale, deepening their understanding of the interconnectedness of our world's oceans.
The information is available in several languages for accessibility. Passengers can access translated content in English, Norwegian, German, French, Polish, and Russian, ensuring that a diverse range of travellers can engage with the data and information provided.
The virtual access service isn't just about data; it's about connecting the public, including school-aged children, to the importance of our coastal regions. By bringing coastal observing efforts and data directly to the public, it raises awareness of the significance of these initiatives in meeting societal needs and understanding societal impacts.
Progress and Future Innovations
During its participation in the JERICO-RI program, Norferry has seen significant advancements. The touchscreen consoles have been upgraded to include additional coastal observing FerryBoxes, enriching the data available to passengers. Additional ocean literacy content has been added to engage travellers of all ages. A new console has been acquired to further improve the passenger experience. Plus, a remote sensing data browsing module has been partially supported by JERICO-S3, expanding the project's capabilities.
In the future, Niva is working on developing a web-based console that will allow citizens to access JERICO-RI data via smartphones. While this endeavor is not funded as part of JERICO-S3, it underscores Niva's commitment to making oceanographic data accessible to all.