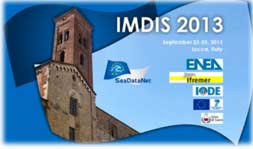 The International Conference on Marine Data and Information Systems of 2013 (IMDIS 2013) will be held in Lucca, Italy on the 23rd till the 25th of September 2013. It aims at providing a general idea of the progresses that have been made in the last years when it comes to the efficient infrastructures for the management of large and various data sets. The sessions will focus on infrastructures, technologies and services for different users: environmental authorities, research, schools, and universities amongst others. The sessions' topics will be as following:
•    Session 1 Marine information and data management
•    Session 2 Marine environmental data bases
•    Session 3 Data Services in ocean science
•    Session 4 Services for Users and Education
The Conference is organized by ENEA (Italian National agency for new technologies, Energy and sustainable economic development), together with SeaDataNet, IFREMER and IOC/IODE. Due to other events in Lucca in that period, early reservations are advisable (preferably before April 2013).
For those interested in contributing information, the deadline for the submission of posters and papers is the 30th of April 2013. On the other hand for registration or further information access the official website; http://imdis2013.seadatanet.org/ or send an email on imdis2013@enea.it
References:
http://imdis2013.seadatanet.org/
http://www.pegasoproject.eu/