by Jo Foden, Cefas, UK
As carbon dioxide is released into the atmosphere in increasing quantities, pH declines in the world's oceans and the effects on coral reefs could be more harmful than previously thought. A study by Friedrich et al. (2012) looked at the effects of decreasing pH and carbonate ion concentrations, i.e. ocean acidification, on coral reefs.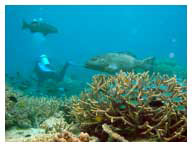 Since reef-building corals need carbonate to build their skeletons, decreasing carbonate ion concentrations will likely lead to weaker, more brittle coral skeletons and slower coral growth rates. Image B shows degradation of healthy coral by acidification. The authors of the study used three earth-system models using historical data and simulations of CO2 emissions to compare natural sources of CO2, such as seismic activity, with anthropogenic sources, similar to what happens with industrialisation.At present anthropogenic acidification already exceeds the level of natural variability by up to 30 times, on regional scales. The prediction is that by the end of the 21st century calcification by coral will be 40% lower than it was pre-industrialisation.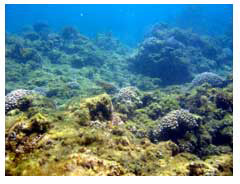 Friedrich et al. (2012) show that at monitoring sites in the Atlantic and Pacific oceans, the current rates of ocean acidification exceed those experienced during the last glacial termination (beginning 17,000 years ago), by up to two orders of magnitude.
References and links:
Friedrich, A. Timmermann, A. Abe-Ouchi, N. R. Bates, M. O. Chikamoto,M. J. Church, J. E. Dore, D. K. Gledhill, M. González-Dávila, M. Heinemann, T. Ilyina, J. H. Jungclaus, E. McLeod, A. Mouchet & J. M. Santana-Casiano (2012) Detecting regional anthropogenic trends in ocean acidification against natural variability. Nature Climate Change, doi:10.1038/nclimate1372.
http://www.nature.com/nclimate/journal/vaop/ncurrent/full/nclimate1372.html
http://ec.europa.eu/environment/integration/research/newsalert/pdf/279na5.pdf