by Jo Foden, Cefas, UK
The RMS Titanic set sail from Southampton on her maiden voyage 100 years ago,  on 10th April 1912 (http://www.rmstitanic.net/).  Just five days later it famously hit an iceberg in the North Atlantic Ocean and sank, never reaching the destination of New York.  RMS Titanic was the largest floating man-made object at that time and was carrying 2,224 people.  Only 710 survived the disaster.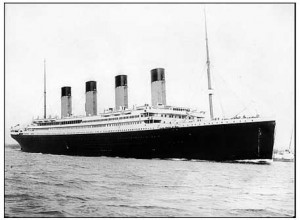 There have been several events organised to mark the anniversary.  In Belfast, Northern Ireland, where the ship was built, the new 'Titanic Belfast Exhibition Centre' has been opened (http://www.the-titanic.com/Home.aspx).  In Southampton, England, descendants of some of those who died on the RMS Titanic have thrown wreaths from the Southampton dock from where it departed.  A minute's silence was observed in the city, which had been home to more than 500 of the crew who died.  Hundreds of children paraded through the streets, each holding pictures of the ship's crew.  Halifax, Nova Scotia, is where many of the dead were buried.  Other events to mark the anniversary included a public seminar, a play, a film festival and a music tribute. 
To commemorate the occasion, a memorial cruise on the MS Balmoral set sail from Southampton at 3 pm on Sunday, April 8 2012, stopping off at the Irish port of Cobh (http://titanicmemorialcruise.co.uk/).  It will retrace the route of the RMS Titanic, this time safely, all the way to New York.