This opportunity comes from the Europe-funded Fixed-point Open Ocean Observatory network (FixO³) project, coordinated by the UK's National Oceanography Centre (NOC). As part of this initiative private companies and research institutions working on marine technology or wanting to conduct scientific research, have the opportunity to apply for access to one or more observatories and receive full scientific and technological support.
The FixO³ project started in September 2013 with a European Commission (EC) funded grant of €7m. It is a four-year project with 29 European partners from academia, research institutions and small and medium enterprises (SMEs). The project aims to integrate all infrastructures operated by European organizations and to enable continuity in ocean observations. It also aims to improve access for the wider community to these key installations and the data products and services.
Transnational access
The FixO3 project's 'Transnational Access (TNA)' initiative is about supporting external scientific users with coordinated, free-of-charge access and includes 14 ocean observatories in the open ocean and one shallow water test site in the Western Mediterranean Sea available for access by successful applicants.
Observatory locations range from the polar regions of the Antarctic and Arctic, to the Atlantic Ocean and Mediterranean Sea with a choice of seafloor, mid-water and surface infrastructures with varying scientific focus due to each location's characteristics.                
These observatories were selected as they offer the broadest scientific and technological capabilities for multidisciplinary observations such as atmosphere-ocean interactions at the sea surface and processes in the water column and ocean floor. Gliders are also available for some of the sites. The observatories address a wide range of disciplines such as biology, biogeochemistry, chemistry, physics and geology.
Each of these open ocean observatories is in a key region which has been identified by the European Multidisciplinary Seafloor and Water Column Observatory (http://www.emso-eu.org/) as a critical area for environmental monitoring.
Call for proposals
The call for proposals will open in mid-June and close before the end of July. Applicants are encouraged to start working on their proposals as soon as possible as they need to contact the observatory manager of the preferred FixO³ location for a pre-feasibility evaluation of their project and a letter of support prior to submitting the proposal. Applicants also need to write a short research proposal explaining the reasons why they would like to use one of the observatories offered under TNA.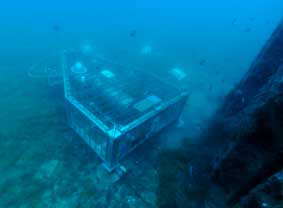 The proposals will be evaluated by a panel of experts, based on scientific merit, technical quality and the novelty of the proposed activities. The selection process will start as soon as the FixO3TNA Office closes the first call in July and successful applications will be decided by the end of the year.
User groups, particularly those working in countries where no similar research infrastructure exists or with no prior experience of accessing similar infrastructure, are encouraged to apply and will have extensive support during proposal preparation and subsequently if funded.
The TNA is a unique opportunity for scientists and engineers to access high-quality, interlinked instrumented infrastructures operating in open ocean observatories in order to carry out research and/or to test equipment.
For more information please visit http://www.fixo3.eu/tna/; email the FixO3 TNA office at fixo3.tna@plocan.eu or email the FixO3 Project Manager at luisa.cristini@noc.ac.uk.