…a Study by UK Scientists 
Hydro energy is a form of renewable energy that can be generated using turbines. FLOWBEC is a National Oceanography Centre project whose aim is to monitor the effects of such devises on the surrounding wildlife. This is done at UK test sites, one of which is the tidal energy test area of the European Marine Energy Centre (EMEC) in Orkney. Together with an experienced team, researchers from the Universities of Bath and Aberdeen have created two sonar systems on a seabed frame placed within 25 meters of the OpenHydro structure. It observes fish and diving seabirds that pass through and feed from the sea. These sensors, which are now being mounted autonomously, can collect data,that allows imaging of a full 'acoustic curtain' in a highly challenging environment. Concurrently EMEC is also working on a project called ReDapt, which is paying for a cabled monitoring pod, including an active sonar system. The knowledge provided from these will directly benefit the industry.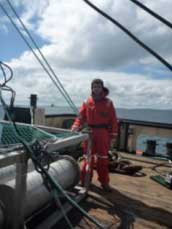 The NOC are also monitoring on and above the sea surface using marine radar, which has been tracking the movement of birds, and marine mammals in the surrounding areas.  James Waggitt PhD an expert on birds from the University of Aberdeen has also been taking part in this monitoring and giving his input on the matter. The researchers will identify the different species and their behaviour including how renewable energy structures affect these species. Through this they hope to understand how various types of marine wildlife will be affected and how they might interact with this technology. The sonar systems used to monitor the EMEC tidal energy test side were set up in June and the first results were presented at the European Conference in Underwater Acoustics in July. These were very highly appreciated by the audience.
The results of the project will be shared and made available to environmental scientists at the end of the project. When all analysis is finalized, the data will clearly indicate to which extent the devices used impact the animals' behaviours.
References: