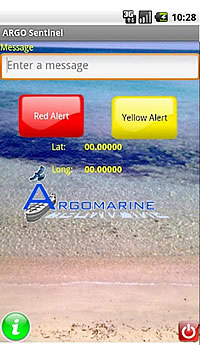 A new app for Android phones and tablets is opening up the notification of oil spills and sea pollution to the wider general public. The 'ARGO Sentinel' app allows users to notify an incident, follow what is happening and see other volunteers. It also links directly into Twitter and Facebook for updates thus unleashing the power of social networking into the arena of environmental monitoring.
The app has been designed by the National Institute for Research (CNR) in Pisa, Italy, and is funded thanks to an EU project. The alerts generated by it are sent to the closest monitoring outpost. Alarms can be classified as Urgent if immediate response is required, and thanks to the GPS tracking facility embedded in most smartphones and tablets today, the app will send the exact co-ordinates of where the issue is.
The app can be found and downloaded from GooglePlay. iPhone and iPad versions are in the pipeline and should be out soon.