by Seppo Knuuttila
A great source of information about the Baltic Sea – its state, research, activities and more can be found at http://www.itameriportaali.fi/en_GB/. The site is multilingual in three languages (Finnish, Swedish and English). The portal is the fruit of a cooperation between the Finnish Environment Institute, the Finnish Meteorological Institute and the Ministry of Environment in Finland.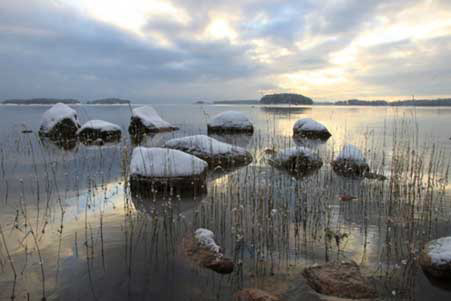 Within the site one can find several interesting sections.  Baltic Sea Now provides the latest available data collected in real time on waves, algae, ice and sea level. The Baltic Sea information section contains articles and reports collected since 1997, and is a veritable mine of material on hydrography, ice conditions, open sea, sea bottom, eutrophication, harmful substances and invasive species. Tips for improving coastal water conditions are found under the Protection section and the Research area has a variety of articles and links to several areas including the voyages of the two research vessels Aranda (open sea) and Muikku (large lakes). Recent events and news are to be found in the Current section which is updated frequently, thus ensuring that the information on the portal is never stale.
Finally there is also a great Gallery with videos, spectacular images and even live webcam feeds. An educational game for the young ones (and not so young) is available from the main page to add a more lighthearted area to the Baltic Sea portal.