A newly launched Marine Board Position Paper (number 18) presents key scientific priorities for Marine Protected Areas (MPA) management and calls for the rapid implementation of MPA networks in Europe.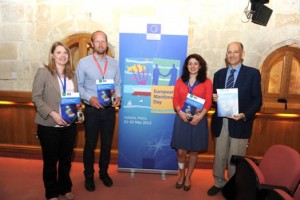 Coinciding with the 2013 European Maritime Day stakeholder conference held in Malta, the paper explains that the establishment of MPAs in Europe is slower on the uptake than the equivalent land based protected areas. Moreover this is unco-ordinated and therefore happens sporadically and in pockets. Networks of such MPAs are needed since long term monitoring programmes will provide key information and data for marine ecosystems.
As human activity in the seas continues to rise, and the exploitation of the oceans continue, the different countries must rise to the challenge together. Integrated ocean observation will be a tool for scientific assessment and also for achieving compliance in MPAs.
The full text of the paper is available for download at  http://www.marineboard.eu/publications