The Fishery Observing System (FOS) was a program started by CNR in 2003, in the framework of the EU-FP5 project MFSTEP; the aim was to use fishing vessels as VOOs for the collection of scientifically useful datasets. Seven commercial vessels fishing for small pelagic species in the northern and central Adriatic Sea were equipped with an integrated system for the collection of data. Until the year 2013, catches, position of the fishing operations, depth and water temperature were recorded daily during each haul. 
In 2013, CNR upgraded the FOS to FOOS, the Fishery & Oceanography Observing System. New sensors for the collection of oceanographic and meteorological data allow nowadays the FOOS to collect more parameters, with higher accuracy, and to send them directly to a data center in near real time. The FOOS represents thus a multifunction system able to collect data from the fishing operation and to send them to an inland data center, but also to send back to fishermen useful information, as for instance weather and sea forecasts, etc. through an electronic logbook with an ad hoc software embedded. The FOOS implementation allowed a spatial extension of the monitored area and the installation on various kind of fishing vessels such as coupled pelagic trawlers, bottom trawlers, purse seiners etc. 
From January 2014 data from 9 vessels operating in the Adriatic Sea are monthly distributed through MyOcean – Mediterranean Sea In Situ Thematic Assembly Centre (http://www.myocean.eu/, wmo_platform_code:"FOOS CNR-ISMAR Ancona"; site_code = "ADR-FOOS"). 
Contacts: Michela Martinelli (Please login or register to view contact information. )
                  Pierluigi Penna (Please login or register to view contact information. )
                  ISMAR UOS Ancona
                  Largo Fiera della Pesca 60125 Ancona, Italy
                  Tel +39 (071) 207881 Fax +39 (071) 55313
Movie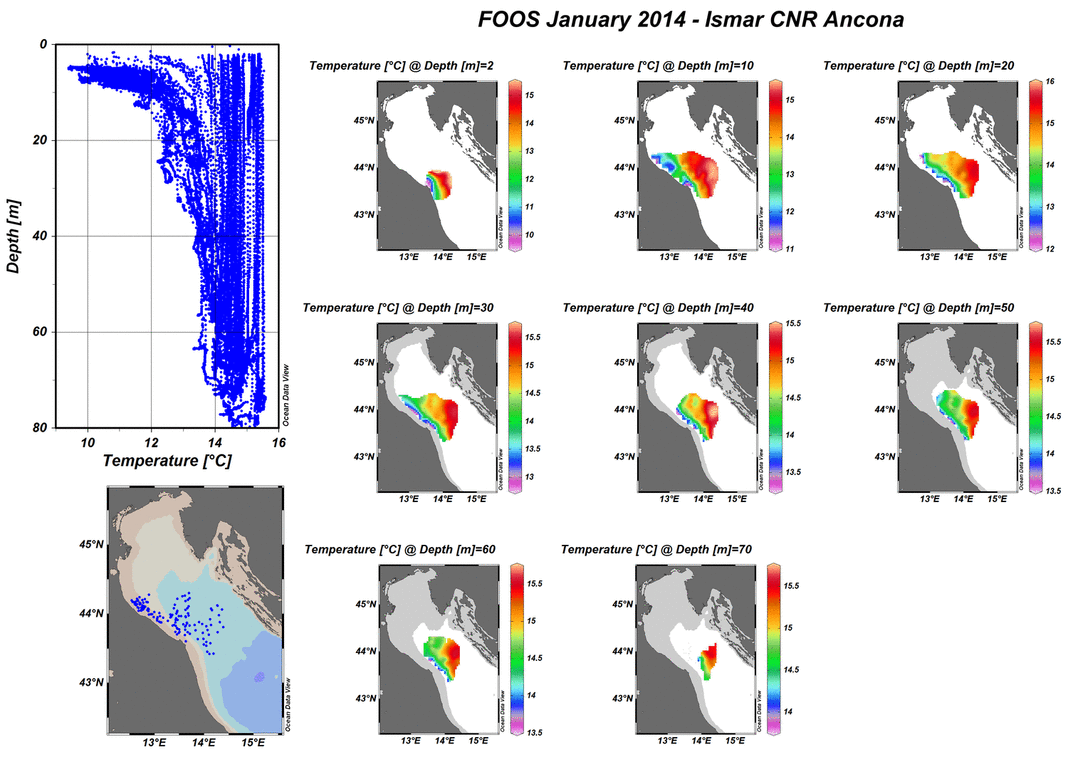 Monthly maps & profiles
| | | |
| --- | --- | --- |
| January 2014 | February 2014 | March 2014 |
| | | |
| April 2014 | May 2014 | June 2014 |
| | | |
| July 2014 | August 2014 | September 2014 |
| | | |
| October 2014 | November 2014 | December 2014 |
| | | |
| January 2015 | February 2015 | March 2015 |
| | | |