Date
29/06/2022 01/07/2022

The EuroSea/OceanPredict workshop on "Ocean Prediction and Observing System Design" will take place from 29th June to 1st July 2022. Organised by EuroSea and OceanPredict, this workshop will be held in person at the Met Office (Exeter, UK) with virtual access for participants who are unable to attend physically.
This open workshop will link global and regional ocean observation and prediction communities, providing an opportunity to gather representatives to exchange information on issues, progress, and future outlooks.
The EuroSea/OceanPredict Workshop on Ocean Prediction and Observing System Design is now inviting submissions of abstracts for one or more of the four workshop sessions:
Session 1: OSEs & OSSEs in support of observing system design
Session 2: Extreme marine events – observing, modelling, forecasting and user accessibility
Session 3: Coastal Ocean: Modelling, observing system design and product utility
Session 4: EuroSea & OceanPredict – in support of the UN Ocean Decade
Please visit the website for more session details.
Abstracts
A maximum of two abstracts can be submitted for either oral and poster presentations.
Event location
The workshop will take place at the Met Office, Exeter, UK.
It is encouraged for everyone to consider travelling to the workshop location to enjoy direct interaction with other attendees, but options will be provided for those unable to travel to take part remotely (also presenters). Travel options, directions to the Met Office, and other useful information will be made available soon.
Access to Met Office
All attendees will be required to present a valid ID to Met Office Reception Desk staff to be able to receive a name badge and enter the workshop conference rooms. Before the event all in-person attendees will be invited to a security check (by email).
Registration
The abstract submission deadline is 20th April 2022, while registration closes on 31st May 2022. Both can be done through the same form.
Registration fees
Registration for this event is free.
The workshop organisers
This workshop is organised by OceanPredict and EuroSea with kind support from the Met Office, Exeter, UK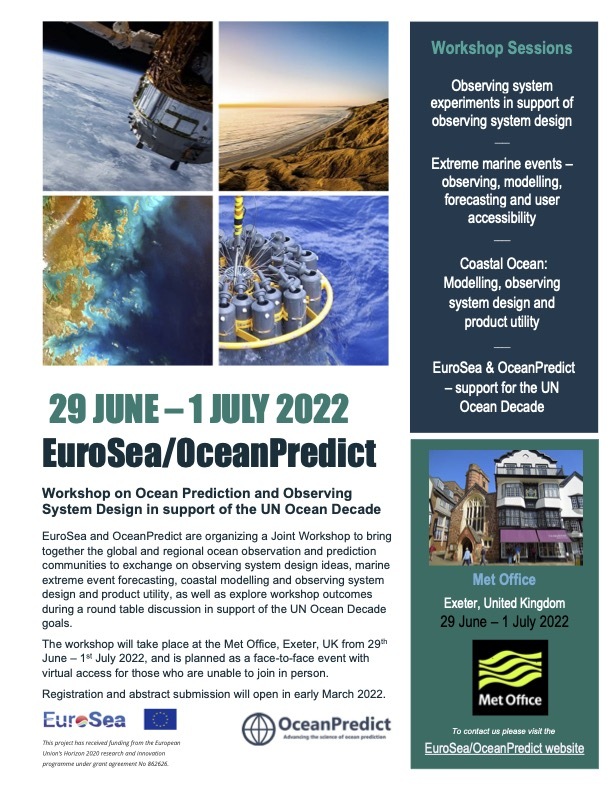 Location
Met Office