Date
26/09/2022 29/09/2022

JERICO-S3 North Sea & English Channel PSS and Norwegian Sea & KASKEN IRS Meeting (26-27 Sep 2022) & FerryBox Meeting (28-29 Sep 2022)
Date/Time: 1pm on 26 September 2022 to 5pm on 29 September 2022.
Venue: Helmholtz-Zentrum Hereon campus: Max Planck Str. 1, Geesthacht, 21502, Germany, as well as online.
Cost: No registration fee is required. Lunch and coffee breaks will be catered. Dinner on one day of each workshop will be provided.
JERICO-S3 Sessions
Plankton Biology
Carbon Cycle
Physical Observations
Integration of Data and Models
International Integration & Societal Relevance
Future Perspectives: PSS, IRS, UN Decade
FerryBox Sessions
Biological Oceanography
Carbonate System
Contaminants
Ecosystem Dynamics & Assessment
Data Management & Applications
Novel Instruments & Techniques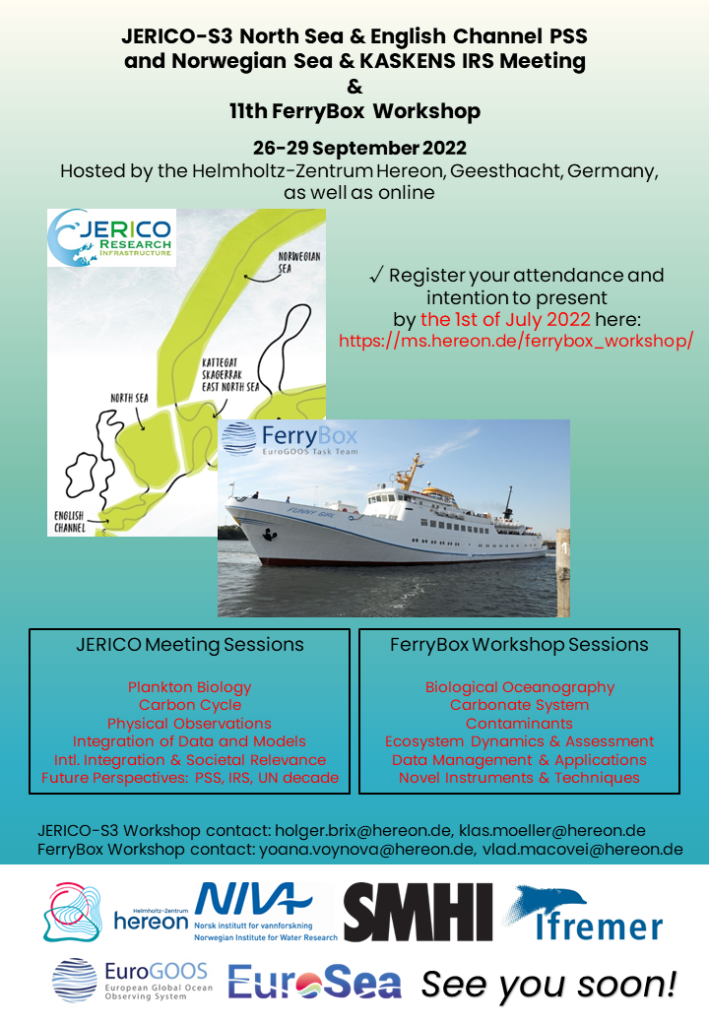 Location
Helmholtz-Zentrum Hereon campus