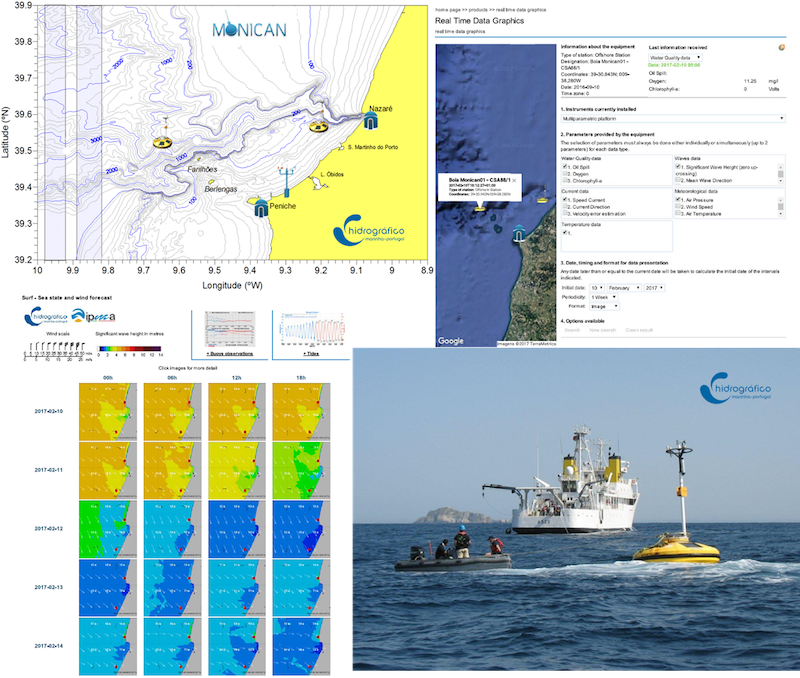 Short title:
MONICAN (MONItoring Nazare CANyon) opens to researchers, national and local authorities, nautical community and general public the access to real-time/archived data and operational forecasts from the Nazare Canyon (W Portugal) area of influence.
Short title2: Monitoring of Nazare Canyon network
Link to website: http://monican.hidrografico.pt/
Description:
The MONICAN web page provides access to real-time or archived measurements and operational forecasts of the oceanographic conditions prevailing in the Nazare Canyon area of influence. Near real-time measurements in the Nazare Canyon area are collected hourly by the MONICAN network. This network includes two multi-parametric platforms measuring waves, meteorogical parameters (wind, atmospheric pressure, air temperature and relative humidity), sea surface temperature and (for one of the platforms) water temperature in the upper 200m and currents in the upper 100m. The MONICAN network also integrates two coastal tidal stations providing sea surface level measurements  in the ports of Nazare and Peniche , and one coastal meteorological station providing meteorological measurements in the area of Ferrel. The near real-time data is presented in graphical form (namely by combining observations and forecasts) and can be accessed in table form. Forecasts of the wave conditions affecting the coast of Nazare are also included.
Institute:
Oceanography Division-Instituto Hidrografico (IH)
Contact name: Joao Vitorino
Contact email: Please login or register to view contact information.
Location: Nazare, Portugal
Tags:
Nazare Canyon
Real-time data for Nazare Canyon
Waves off Nazare
Monitoring Nazare Canyon
Oceanographic conditions off Nazare
Real-time monitoring W Portuguese margin
Monitoring large submarine canyon