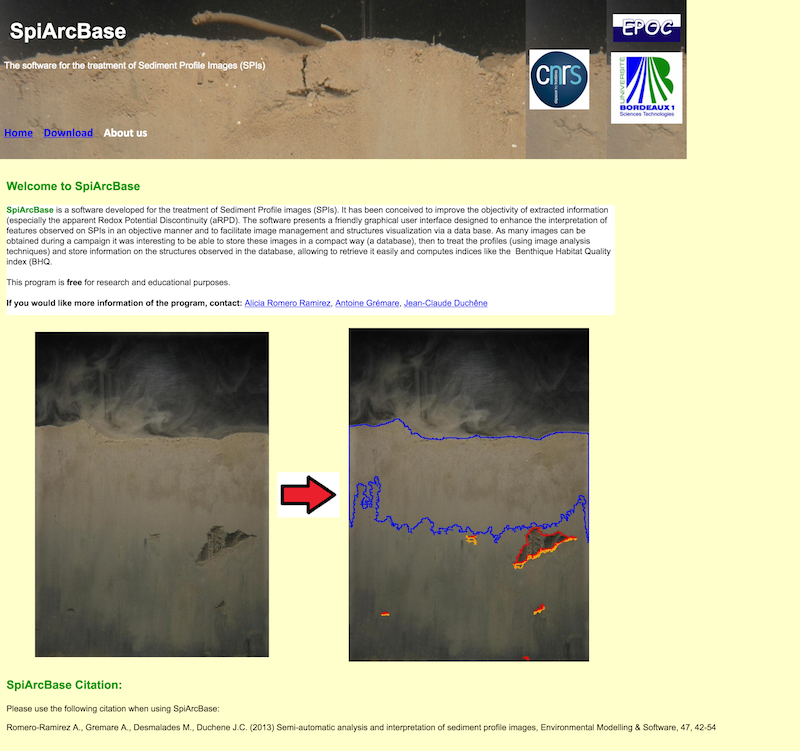 Short title:
SpiArcBase
Short title2: SpiArcBase
Link to website: https://spiarcbase.epoc.u-bordeaux1.fr/
Description:
SpiArcBase
 

is a software developed for the treatment of Sediment Profile images (SPIs). Sediment Profile Images (SPIs) are widely used for benthic ecological quality assessment under various environmental stressors. The processing of the information contained in SPIs is slow and its interpretation is largely operator dependent. SpiArcBase enhances the objectivity of the information extracted from SPIs, especially for the assessment of the apparent Redox Potential Discontinuity (aRPD). This software allows the user to create and manage a database containing original SPIs and corresponding derived pieces of information. Once you have downloaded it, you can ask for help and stablish a helpdesk.
Institute:
CNRS/University of Bordeaux
Contact name: Alicia Romero Ramirez, Guillaume Bernard
Contact email: Please login or register to view contact information.
Location:
Tags:
Sediment profile images; 
Benthic ecological quality assessment; 
Image analysis software
; 
Apparent Redox Potential Discontinuity