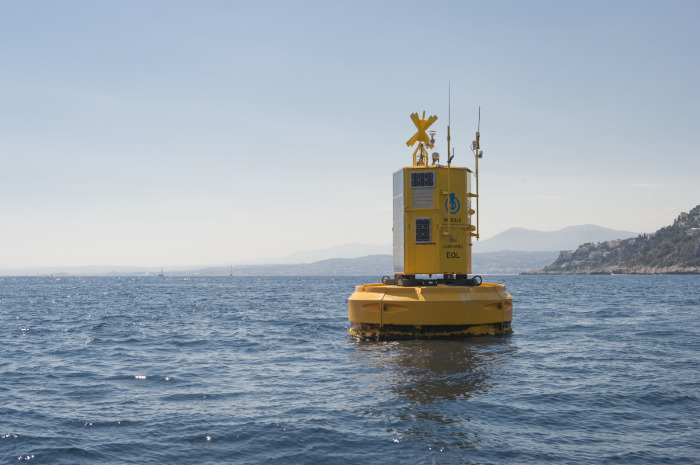 Short title:
EOL – Environmental Observatory of the Littoral – A high frequency acquisition platform for science and technical developments.
Short title2: Environmental Observable Littoral
Link to website:
http://www.obs-vlfr.fr/data/view/eol/surface/
http://www.obs-vlfr.fr/data/view/eol/ctd/
http://www.obs-vlfr.fr/data/view/eol/meteo/buoy/
Description:
EOL is an autonomous platform moored at the mouth of the bay of Villefranche sur mer (French Riviera, Ligurian Sea), over rocky bottom depth of 90 m. As no continental platform is present in this area, this site is under offshore influences, as well for physical parameters as for biological ones. Its equipment comprises a meteorological station and two CTD profilers (Seabird 19) : one dedicated for profiles (0-70 m), the other one at fixed depth (1.5 m). Core oceanographic parameters (temperature, salinity, fluorescence, turbidity, oxygen in the future) are acquired twice a day (profiles) and an hourly basis (subsurface). Energy for the instrumentation comes from solar tiles, which make the platform "self-sustainable". Oceanographic data are process once a day and first validated through an automatic seabird process. The data can then be visualize on line. They are available on request according to a data policy access, with information about data collection, processing, etc. Validated time series data can be provided to the user community (scientists, policy makers, etc.).
Institute:
Institut de la Mer de Villefranche (IMEV)
Contact name: Laure Mousseau
Contact email: Please login or register to view contact information.
Location: Ligurian Sea
Tags:
temperature and salinity data : vertical profiles and mooring, CTD, ligurian sea, multiplateform next to biogeochemical and physical sampling site (SOMLIT)